Dogs seem to be the subject of the week. Here is an email I just got from my cousin Patty with the newest member of their family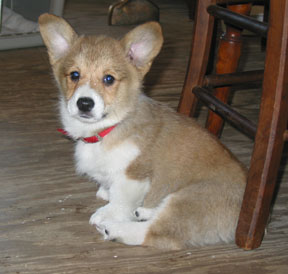 "We picked up Homer the afternoon after the inauguration from a breeder in New Hampshire. He's named after Doyle's favorite children's story "Homer Price," by Robert McCloskey. Homer is a 9-1/2 weeks old Corgi pup. This picture was taken Wednesday morning. He's already grown and has become a lot more mobile. No more shaky toddler steps. He's got us all wrapped around his puppy paw. Well, maybe not Tucker."
Homer has a tough act to follow with the recent passing of Patty and Doyle's first Corgi, Farley. Number two corgi, Tucker, is now the old man. The corgis provide visitors with great entertainment as they run through the fields of grass (or snow, depending on the season.) Don and I look forward to making Homer's acquaintance.