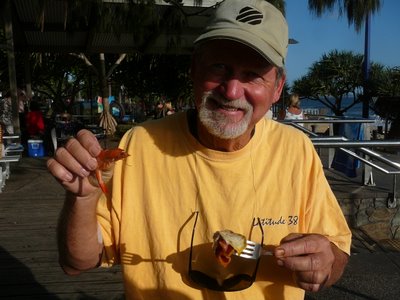 This is the first year in many that the Two Captains have not flown back to the States for the holiday season. Our last Christmas aboard was in the remote anchorage of Bahia Santa Elena, Costa Rica in 2001! In 2002 the holidays were interwoven with our wedding plans, in 2003 it was too easy and affordable from Mexico to miss, and in 2004 we were in Los Angeles holding our breath for our grandson Kai's very imminent arrival.
That year it was not so convenient to get back since the boat was in the Society Islands, and French Polynesia's visa requirements obligated us to stay out of the country a full six months. Little did we know it at the time, but that was the beginning of the end for us. Not only did we allow our hearts to get all entangled with the newest member of the family, but the extended circumstances seduced us into buying the motor home to be our land base. Now with one foot on the boat and one onshore, we have been dividing our time ever since.
No one needs an explanation for why we didn't make the trip this year. The distance is long, travel costs are high, money is tight, and the boat is for sale. In theory, when Tackless II has a new owner, we will no longer have to make the murderous commute, so, the family has granted us a dispensation this year.
Which is not to say we haven't missed being there! But thanks to video Skype we have not only talked with everyone in both families, but we were able, by getting up at midnight on the 26th, to actually watch Kai open his presents Christmas morning in Florida!
As for Christmas in Oz, it is a very different experience. Mooloolaba, being a resort community, has filled up to the gills, and its beach and restaurants are packed. Traffic crawls, and should you think to do errands by car, you will have to wait until nightfall to find another parking place! Even here on the dock, the slips around us have filled with boats that come here annually for the holiday week, including slip owners who only actually use the slip themselves this one month! Most of the boats have sported some sort of Christmas decoration, and the docks have been teeming with kids and grandkids. Fortunately, our marina did host a Christmas party early on which allowed us to finally meet a bunch of our neighbors, so we have not been totally left out of all the festivities.
After our busy and somewhat extravagant week in Sydney, we didn't actually have much planned here. On Christmas Eve the "Yacht Club" at the other marina hosted an orphan's dinner with a BYO-everything BBQ. Since we have several acquaintances there, including, of course, our buddies Tricky and Jane and the fast growing Dudley, it made for a nice evening even though the sky threatened rain.
The next morning dawned bright and clear, and we got up around five to meet Sandi and Peter of Otama Song on the beach for champagne. What Peter didn't really make clear was that they had whole big breakfast planned. By the time we arrived, they had not only staked out a table and a grill, but had cooked up a huge stack of meat, sausagesm bacon, grilled tomatoes and toast.




Sandra, the lady skipper of the 70' Plum, also joined us and brought the prawns that no Aussie Christmas is right without. Caught a bit short, we made a couple of trips back and forth to the boat to augment supplies as they got low.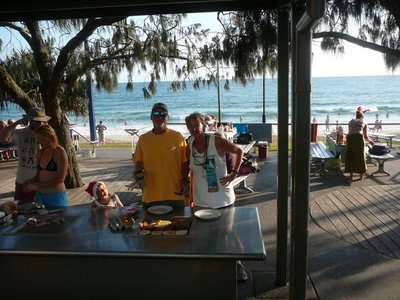 With all this and more goodies that Sandi had stashed in her Esky (Aussie for cooler), we ended up eating, drinking and swimming until nearly noon! What we should have guessed is that this is not merely an Otama Song tradition, it is an Aussie tradition. Every grill, table and bench was in use, and latecomers brought their own grills, tables and chairs!
Boxing Day (the day after Christmas) is also a big deal here in Oz, especially for sailors because it is the start of the Sydney Hobart Race. Randy and Sheri reportedly climbed the trail to north head from Manly to watch the start from there, but we had to make do with watching it on TV. Thinking we were smart, we and Peter and Sandi went over to the The Wharf Pub, a sort of sports and gambling bar at the other end of the docks, to watch the coverage on their giant screen TVs. That part worked out well, but unfortunately, management wouldn't turn off the Muzak and turn up the sound! Still, the kind of shots that airborne cameras can get can't be matched! It was truly wild to see the race boats trying to tack their way out of the harbor across the wakes of the hundreds if not thousands of spectator boats trying to keep up!
We decided to lay relatively low for New Year's Eve. Mooloolaba's Council was hosting a big do on the beach, with not one but two fireworks shows planned: one at 8pm for families with children and another one at midnight. It's always been a tenet of mine that if someone is going to fire off all that money into thin air, I owe it to them to be there. Thanks to portable fencing and a ban on parking, the whole Esplanade was turned into a controlled, alcohol and drug free zone for the night, with the exception, we presume, of the actual restaurants! This is not to say there weren't plenty of potted people about, but at least they had to exit the area to refuel.
Against all odds, we managed to find our way up there for both shows. We found a good spot in the sand with our backs against the seawall. We had imagined that the fireworks might originate from a boat off the beach or maybe even from one of the breakwaters across the bay at the harbor entrance, but in the end it was not quite that grand. The launch point turned out to be the beach just beyond the Surf Club, and although the pyrotechnics came at a fast and furious rate, they never gained a whole lot of altitude. Both shows were exactly the same, but we found the early crowd more appreciative.
Once again it turns out the place to be was Sydney. My sister back in North Carolina evidently watched the Sydney display on TV, and of course Randy and Sheri did it truly right by booking places on one of the Harbor's New Year's Eve dinner cruises. They said it was the most spectacular display they had ever seen!
So, here we are in 2009. We are hopeful things will get a little more back to normal next week. We have managed to pry out from our agent the news that customs has accepted our valuation for importing Tackless II. That will be a big step in the process of getting her sold. Don has made huge inroads on the interior varnish with very little help from me, and once quarantine has signed off on us we will finish a few woodwork repairs. All in all, I can't imagine how anyone could resist her!
By the way, Santa did not totally overlook the two captains. He brought us a tent with which to do some camping and a 1990 Toyota Camry to carry it around in. Just think of it as a poor man's RV! We are hopeful that, so equipped, we will be able to take off in a couple of weeks and see a little of this huge and beautiful country before we have to depart.

This e-mail was delivered via satellite phone using GMN's XGate software.
Please be kind and keep your replies short.
Labels: Mooloolaba