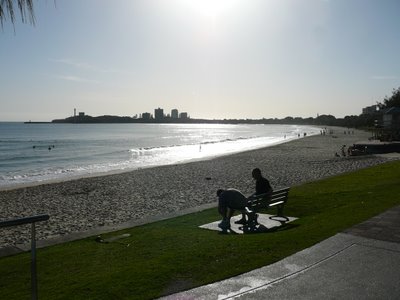 So far…so perfect. Yes, kiddies, the two captains lucked out on this one. Mooloolaba has quickly revealed itself to be a place of almost exactly the sort that we have for many years fantasized about as a retirement spot. There's a lovely beach, several great morning walks, dozens of different kinds of places to get a bite to eat, a supermarket in easy walking distance as well as a bottle shop with specials on Aussie wines and a fridge full of interesting cold beers. Imagine…a country with more than two kinds of beer!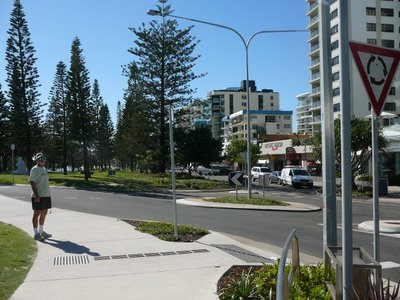 And although Mooloolaba is certainly idyllic for retirees, it seems to be equally popular with young people and families.
Our slip is in the Wharf Marina, a small, friendly operation tucked right into the corner of town. Behind our slip is a small park, buffering the sound of traffic on the adjacent street; Underwater World, 'Queensland's largest oceanarium" is one block to the south; and a Hogsbreath Bar and Grill at the foot of our dock is part of a whole wharf of boutique stores, restaurants, dive and surf shops.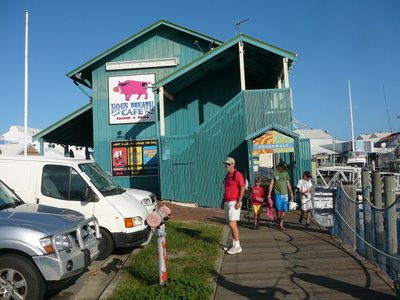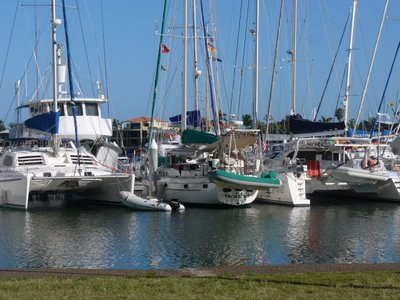 Surprisingly, the oceanfront that looked a bit forbidding on our approach has turned out to be exceptionally attractive. Starting just two blocks away, Mooloolaba's long curving beach is backed by a raised park-like boardwalk with play areas and free BBQ grills.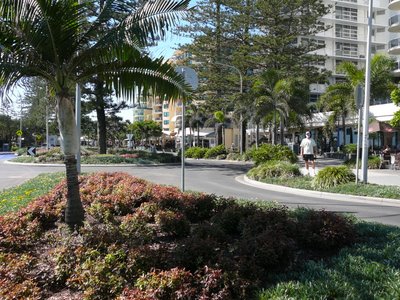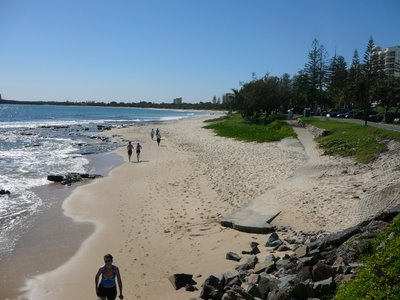 Well set back behind that strip is a 3-4 block-long esplanade of startlingly cosmopolitan cafes, restaurants, and shops all jumbled together in a street-level mall joining the various ten-story condo buildings. Behind that are several blocks of four and five-story condo complexes in beach colors, more shops and offices, the supermarket and, yes, a McDonald's. Everything looks fresh and modern and was, that first brilliant Saturday morning, jam-packed with people of all ages enjoying themselves. On the beach was some huge family event, having to do with the big Surf Club that anchors the end of the street. The beach and the club were packed with adorable children in bathing suits, evidently participating in swim races in the sea.
The fact that it is a seaside resort town with the above attractions means that it is crowded with people and cars on the weekends and holidays. So far the worst this means for us is the clamor of inebriated young people trying to find their ways home after the bars and clubs close down around 3am! During weekdays, it is much more laid back.


We chose Mooloolaba based on reports of cruisers in previous seasons – going way back friends aboard Maritime Express and Exit Only – as well as because several current friends were planning to be there this season. One of those friends is Peter and Sandi of Otama Song, whom we first got to know in Tonga. Earlier this season, Sandi, a lab pathologist by training, got a job offer to come back to Australia and set up a brand new independent laboratory. Sandi flew here and went to work, while Peter brought their boat to Vuda for work, renewing our friendship. Since the new lab is in nearby Buderim, berthing the boat in Mooloolaba became the obvious choice. Every morning Peter and Sandi get up at the crack of dawn to walk, swim and sip coffee by the beach. We have Peter to thank for making and holding on to our reservation at the Wharf.
Labels: Marinas, Mooloolaba