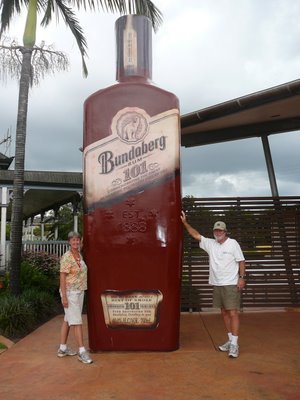 Our first week in Australia was dedicated almost wholly to the arrival festivities of the Bundaberg Cruising Yacht Club's annual
Port2Port Rally
held at the
Bundaberg Port Marina.
The BCYC was formed in 2000 specifically for the purpose of sponsoring this rally to attract Pacific cruising boats to the Port of Bundaberg, which is situated up the Burnett River off Hervey Bay in Queensland at 24*45.58S 152*23.28E. This year the rally drew some forty boats, departing from two ports in Vanuatu and two in New Caledonia.
Port Bundaberg is an enticing arrival port because, unlike many Australian ports whose approaches can be complicated by shifting river bars, the approach up the Burnett River, leading in from the protected waters of Hervey Bay, is manageable in virtually all conditions, including, as we saw, at night. It is also far enough north that yachts coming from the tropics cross in the Coral Sea, north of the unpredictable weather generated by the Tasman Sea to the south. This had weighed on our minds because a boat we had met and socialized with in Vuda Point had been lost a few months ago in bad weather a mere 150 nm outside of Brisbane. Of course, the Coral Sea route was not without its hazards. One rally boat, Hot Ice, hit a reef and had to be abandoned. Fortunately for it's crew, they were on one of the radio nets at the time, and rescue was organized expeditiously.
Aboard Tackless II, we had very mixed feelings about doing another rally, since sailing to any kind of schedule can only mean trouble, as we were reminded in our trip from Port Vila to Noumea last month. However, the Port2Port Rally takes a slightly different approach. Participants are urged to TRY to arrive within a three-day window prior to the start of the rally parties, leaving departure time up to each individual boat. The organizers provide a tremendous amount of clear, useful information by email prior to departure, run an excellent radio sked twice a day from the 18th to the 29th, but don't collect entry fees until you actually arrive. Therefore, if you don't like the weather, you simply don't come! This year most Port2Port boats left over a span of eight or ten days!
Tackless II was called from the quarantine anchorage to the quarantine dock mid-morning. This gave us plenty of time to spiff up the boat…rather like cleaning for the housekeeper! Customs and immigration were mere formalities since we had applied for visas online in advance and also had printed out the customs papers from the Internet and pre-filled them out. It is Quarantine that is the big deal in Australia. Modern day Australia is paying heavily for the past introduction of foreign species – both ignorantly and inadvertently – that have wreaked havoc with its fragile ecosystem (read Jared Diamond's book Collapse.) We are not allowed to bring in any fresh fruits or vegetables, meat, eggs, seeds, dried beans or related products, and wood and fiber crafts from the islands are a concern as well. There was a lot of suspense about what we would be allowed to keep, but it proved wise just to wait and see (beyond the very obvious), because we were allowed to keep a lot of things I'd thought they would take. In our case the officers were more worked up by some bugs they found in a bag of slivered almonds, a fluttery character that they eventually identified as a harmless warehouse moth. All in all it was a very professional and courteous entry.
In the course of the following week there were: a spaghetti night, a BBQ night, a welcome breakfast sponsored by the Bundaberg Regional council, a curry night, an afternoon BBQ sponsored by the marina, a "Beer, Prawn and Oyster" night (the marina is associated with a seafood wholesaler), a pot luck evening, and finally a fancy End of Passage dinner with yummy hors d'oeuvres and free Dark and Stormy's (a rum cocktail famously made with the locally brewed Bundaberg rum…although, since the distillery failed to provide the rum, the evening's supply was actually made with Captain Morgan dark!...Yay! More on Bundaberg rum later.) Each of these events was more than affordable and took place around eleven huge round tables in a big tent set up on the marina lawn! The cruisers mixed and mingled (we all had name tags, bless 'em) and sorted out into subgroups of new and old friends.
We had around us quite the circle of friends from the past few seasons, including, Randy and Sheri of Procyon, Tom & Bette Lee of Quantum Leap, Robin and Duncan of Whisper (who actually crossed from Mexico when we did). Tricky and Jane of Lionheart, Jan and Lee of La Boheme, and this year's buddies, Jim and Paula of Avior, among many others.
The day after our arrival, Tom and Bette Lee, who had arrived early and rented a car, conducted us into Bundaberg for our first exposure to this very pleasant Queensland town. Lonely Planet describes Bundaberg as "a country town that feels oh-so two centuries ago." I don't know about that, but to us it felt just right. Down the center of town is a wide boulevard with lanes divided by a tree-shaded parking island and intersections had been attractively bricked. We learned later that there are plenty of modern shopping malls around, but, despite them, downtown still seemed plenty healthy.
Our primary stop was the Telstra Phone store where, like most of our pals, we got a local phone, a chip for my T-Mobile GSM phone, and a cellular-broadband modem for the computer. We were quite grateful for the devalued Aussie $ when we got the total. But it sure has been money well spent, particularly the broadband modem which is so fast we can actually do video Skype!
The next day we met our yacht broker, Anita Farine, who was up from Scarborough to meet several clients. Yes, you read that correctly: Yacht Broker. It is something we have been considering almost from leaving Mexico, and in the end, with many, many mixed feelings, we have decided to put Tackless II on the market here in Australia. We have been repeatedly told there is a good market for our kind of boat here. That market was, of course, very strong up until a month ago, when the world economy went topsy-turvy and the Aussie dollar dropped from USD.95 to USD.60! This, of course, is good news for our living expenses here (especially as we all now only have half as many USDs!), but it is not good news for the boat market. If you'd like to see Tackless II's listing, you can find it at http://farine.net.au/sail/sb195/double.html . If you would like to BUY Tackless II, contact us directly ASAP at svtacklessii AT yahoo.com. (Address is written that way so spammers can scan it, but you know what to do!)
The other big highlight of the Rally week for us was the Monster Bilge Sale – the equivalent of a yard sale to landlubbers. Don and I wheeled up several cart loads of junk…er treasures…about half of which we actually sold. Can't say we made a whole lot of money, but bit by bit we are emptying out Tackless II's crammed lockers. I will say that we didn't BUY anything! Our other strategy for clearing the boat out involved several trips to the Post Office to send back some of the souvenirs we have collected.


Sightseeing in Bundaberg
Sunday morning, the rally organizers had arranged a bus to take us to the vegetable market, held on the unusually named grounds of the Shalom Catholic High School! Don gave this trip a bye, which was a shame as there was a vendor specializing in macadamia and other nuts (which he would have enjoyed!), but I managed to load up two bags full of fresh produce on my own! On the way back, the bus driver took us on a side trip to Bagara, an up-and-coming seaside resort town just south of Bundy. Very pretty, but development is opting for "high rise" (6 or so stories) condos which will milk the real estate but fast defeat the charm.
On Monday we boarded another bus for a tour of Bundaberg's two great claims to fame, its Rum Distillery and Ginger Beer Brewery.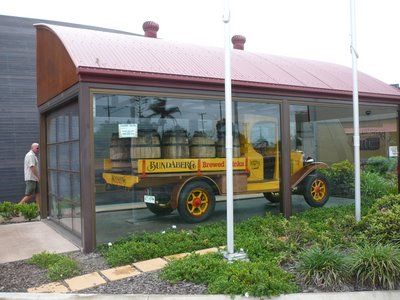 We started at the Ginger Beer factory where is proudly brewed natural ginger beer, as well as sarsaparilla (root beer), a lemon-lime drink, an apple ale, a peach ale, and several others.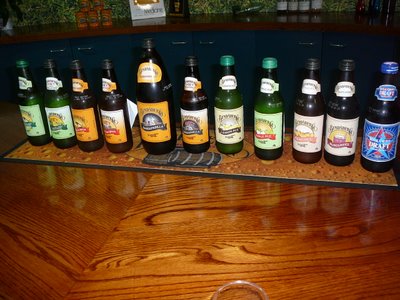 Who knew this stuff was originally brewed like beer (and still is here!)? We got to taste all the products, including the diet versions, and all the ones we remember were very tasty, especially the ginger beer and sarsaparilla, of which we carted home a six-pack. Sadly, the diet versions did nothing for us.


We wish we could be as enthusiastic about the rum. Bundaberg rum, to a Caribbean-trained palate, is quite simply vile stuff! Our guide, the Port2Port volunteer Judy, must have encountered this before with cruisers arriving from the east, because she promoted more heavily their special liqueur – "only available from the factory." The factory tour itself was a little disappointing. In fact both factory tours were actually pseudo tours, cute little displays instead of the real thing. (The real thing can be had at the rum distillery, but it wasn't on our agenda. Perhaps because it calls for closed shoes and so few cruisers have any!) But it did also end up with free tastings. Each of us got a card entitling us to two tastes. I tried the new Bundaberg Red, in hopes it would be smoother. Better, but not a winner. We all tried the liqueur, which is a blend of rum, caramel, chocolate and licorice (I think, or cloves…something exotic), and it was good enough that almost every couple bought at least one bottle. Sadly, they don't offer tastes, free or otherwise, of their two more expensive products that MIGHT have been better tasting. But then, who needs an expensive rum!
After the tours, the bus dropped us all first at Bunnings, a Home Depot-type hardware outlet, and then at a grocery store, which we pretty well besieged. Cruisers who have been in the islands for a few months kind of lose all sense of proportion when exposed to first-world markets like this. So it is probably a good thing that they didn't take us to the Woolworths, which in Australia is a huge mega-market (we went there later with friends!), because they would never have got us all out again!
Between the soda six-packs, the booze cartons and the grocery bags, the return bus was pretty loaded, but this driver, like Sunday's driver, wanted to give us a little something extra, so he drove us to the lookout atop the "Hummock." The Hummock is the closest thing Bundaberg has to a hill. Visually, it is a pimple on the very gently rolling flat cane fields, fields that look like a cross between Indiana and Fiji…in other words tidy mid-west farm fields with sugar cane and palm trees! Historically, the Hummock is actually a very ancient volcano, responsible for all the rich soil hereabouts, and as you might guess is densely built up with houses in search of the only "view" in town!
The Port2Port week finally wound down on Tuesday and boats began taking off. Avior, back in their home cruising grounds, took off early for a rendezvous with friends at Lady Musgrave, a coral atoll about 100kms north that is the bottom of the Great Barrier Reef. Quantum Leap headed out for Mooloolaba, which is our eventual destination, where they will store the boat and head home. Procyon, who plans to explore as far south as Tasmania over the summer, got a jump on us by sailing south on Tuesday for the Sandy Straits where they have ended up exploring up the Mary River. It doesn't take long for the gang to disperse!
Saddled with two more paid-for days in the marina, we hung on a bit longer. Our reward was a ride up the Burnett River with Tricky and Jane aboard Lionheart. Rivers are quintessential Aussie experiences. This one wound about four miles inland through mangroves and cane fields to the Midtown Marina and mooring field right in the heart of Bundaberg proper before being blocked by a bridge and railroad trestle. Tricky did a great job following the beacons up the river course. That it was a tricky route was attested to by our passing one of the rally boats stuck fast in a shoal area! (We sent the marina guys back for them!) With Lionheart moored bow and stern in the middle of the river, Tricky and Jane will do their own dispersing, taking off for a week visiting Tricky's brother in Rockhampton, about three hours north. Tricky and Jane (or "the kids" as we call them!) plan to go back to work for several years to build up a world cruising kitty. It had looked like they might be based with us in Mooloolaba as Tricky plans to become a catamaran sales agent, but recently it's been sounding more like Brisbane might be where they tie up.
Tuesday, the day we rode on Lionheart was a very big day in Australia. Yes, yes, it was a very big day in the USA as well, only the elections wouldn't even get going for several hours yet. But here in Australia, Tuesday the 4th was Melbourne Cup Day! Melbourne Cup Day is said to rank second in importance to Christmas on the Aussie calendar, and while it is not actually a holiday, "no one works." Instead they dress up, including fancy hats, and find themselves a Melbourne Cup Party. Presumably, in Melbourne they actually go to the Melbourne Cup! What is the Melbourne cup? It is a horse race on par with the Kentucky Derby.
We did not actually get to a party, but we did lunch at a pub in town that was making a deal of the race. We had to eat on the sidewalk as all the tables were reserved, but Don and I did nip in at race time to watch the race itself. It loses just a little when you have no clue which horse is which, but it was a huge field, maybe eighteen or twenty! And the track was grass! With such a huge field, the race was very exciting (seemed long, too!) and the finish came down to the leader being caught by a charging grey. It was a nose to nose photo finish, and I sure saw nothing to distinguish which was the winner! Wow. It almost makes up for not having seen a kangaroo yet. (We've been walking early; I guess we need to walk late!)
The American Elections
The American elections dominated hearts and minds and TV sets on Wednesday. Duncan and Robin of Whisper staked out a table for the day in Baltimore's, the very nice restaurant at the marina, and watched the returns come in over a long bottle of white wine. We checked in on Yahoo now and again and stuck our noses into Baltimore's each time we passed. By early afternoon, it was a done deal, so we had Duncan and Robin to Tackless for a evening celebration to toast our new president -- CONGRATULATIONS, OBAMA! And congratulations America, on making a choice for change!

Departing Bundaberg
So, here we are. It is Thursday evening, the 6th of November. We have backed off the dock and are anchored not too far from where we were our first night. Tomorrow, we start our trip south through Hervey Bay and the Sandy Straits., a sinuous braid of sand banks and navigable channels squeezed between Frasier Island and the Queensland coast. Piled around me are charts, the Beacon to Beacon guidebook, Alan Lucas' Coral Coast Cruising Guide, lists of way points and bearings, and routes on two electronic charting programs. Leaving a marina is always traumatic!
Labels: Bundaberg, Marinas, Rally Experience