(Remember, Tackless II is now listed for sale! For info, follow the first link in the list at right!)
Our first week in Mooloolaba has been almost hectic. First thing, Don rented a local storage locker and we have been excavating our forepeak and stall shower from the mounds of stuff that have filled them these past years. Some of it will go with the boat when it is sold, some of it will get shipped home, and the rest…well, we definitely have to do some hardening of the hearts. We've got a list posted of some of the loose equipment, and hopefully we'll earn a little extra beer money from that!
It's been a surprisingly social time on top of all that. Peter had made dinner for us that first night, one of his wonderful fish curries. The next afternoon we spent almost entirely with Randy and Sheri, knowing that these good friends would be sailing onward, potentially right out of our lives, the next morning. We explored Mooloolaba's esplanade for the first time, and enjoyed an afternoon coffee at one of the dozen or so coffee bars, before making reservations for dinner. That evening we toasted the occasion with a nice meal as the full moon rose fat and orange from the black sea. Procyon was gone at first light the next morning.
We'd thought things might begin to slow down. Not hardly. Peter and Sandy invited us to go with them to a local farmer's market. Although I have been very fond of my island markets, I can't deny that it is nice to go to one with things like broccoli, avocados, patty pan squash, herbs, mushrooms, macadamia nuts, and even a stall selling assorted olives. Afterwards we went to check out Sandy's lab, and then, leaving her to work her seventh day of the week (the lab was just days away from certification), Peter took us to visit some friends of theirs who happen to have a Harley in the garage. I could see Don's pulse rate pick up, especially after Andy started it up with a rumble.
By the midday, we were back at the dock in time to assist Tricky and Jane Lionheart in coming in. Remember my last updates on the challenges of the Sandy Straits and the Wide Bay Bar? Well, Tricky and Jane, who had been off visiting Tricky's brother, finally got off from Bundaberg only to have yet another lousy weather forecast posted. So as not to get stuck in Garry's like we did, the intrepid Lionhearts made the whole trip from Midtown marina, down the Burnett River, down Hervey Bay, through the channels of the Straits, out over the bar AT NIGHT, and down the coast to Mooloolaba in about thirty hours straight! Yikes. At least they had calm conditions and motored most of the way, but they did have some unidentified something in their propulsion system "slip' while crossing Wide Bay Bar. Unsure as to whether the problem was in the transmission or the Max prop, they nursed the boat over the last leg in a state of suspense, hence our standing by in the dinghy to help them if there were a problem in maneuvering.
Wouldn't you know, just then we got a call from the broker informing us that our first two potential buyers were on their way! Panic stations. The excavated spaces had to be speed cleaned and the rest of the boat put to rights. And then they showed up EARLY! We actually had to ask them to give us an hour!
By late afternoon the sky started to grow dark and threatening to the southwest. By evening, when we met up with Tricky and Jane again for dinner at the excellent and affordable Thai restaurant, the sky was black, and an ominous frontal line like a lozenge of silver fuzz stretched from one side of the sky to the other. Neighbors warned us of the possibility of strong winds and hail (!!!), so we dropped our solar panels, furled our awnings, and zipped up the enclosure. In the end we got some doozey lightning and thunder (as well as a brief black out), but we were spared the record storm conditions that played havoc with Brisbane forty miles to the south.
It did rain. In fact, it rained a LOT over the following days, making it hard to remember the sparkling blue sky of Saturday! But even in the rain, we've been kept busy! Aussies Jim and Paula of Avior, of whom we lost track when they went home to their house ashore (where they have poor cell phone service), popped up Monday afternoon for tea which turned into an impromtu dinner as we caught up. The next day they came back for us with their son Shane and we all drove an hour south to Redcliffe where Paula's 1971 Toyota Corolla had been left sitting by their daughter after it broke down three months ago. It seems, like a few other families we could name, that it takes Dad to come home to deal with automotive crises. If we could have got it going, Jim and Paula planned to lend us the car! However, it was not the quick fix we hoped for.
The day was not lost as we turned north and swung by the Scarborough Boat Harbor at the southern tip of Deception Bay, another popular stopping-over place for cruisers. The marina there is much bigger than the Wharf and perhaps even than the Yacht Club here, and the basin is shared by commercial fishing vessels. But the area lacks the charm and the recreation options that have so pleased us here in Mooloolaba. Our friends on Whisper were in the marina as well as Procyon, plus we discovered old friends Mike and Kathleen of Content, last seen in Tonga, in the next slip over.
The criss-crossing of courses and rediscovery of old acquaintances was demonstrated quite nicely the very next day when, taking our morning power walk along the promenade, a couple was stopped in their tracks at the sight of Don's Tackless II T-shirt. They turned out to be Peter and Margaret of Suwarro, one of the two boats we uplocked with in the Panama Canal. We had first met them in Cartegena -- and it was Peter that arranged our tour of the visiting British frigate there! – plus they had noodled with us in the San Blas islands. "Just when we think there could be no more boats we know coming through, up pops another!" After the Canal, Peter and Margaret had come straight on across the Pacific in 2001, completing their circumnavigation in Mooloolaba and returning to jobs they'd left nine years before!
Peter and Margaret introduced us that night to the weekly cruiser dinner orchestrated by a gal out of the Yacht Club Marina. Several of those attending were, like Peter and Margaret, cruisers who swallowed the anchor here some time ago. However there was quite a clutch of cruisers who had crossed the whole way from Panama this year! The general tone was a lot of complaint about the rough weather they'd all encountered! Well, duh! When you push that far that fast you can't wait out the bad stuff. There is absolutely nothing about a one-year crossing that appeals to us!
Things have finally slowed down to something approaching a routine. We get up early, do our walk, maybe indulge in a coffee and newspaper on the esplanade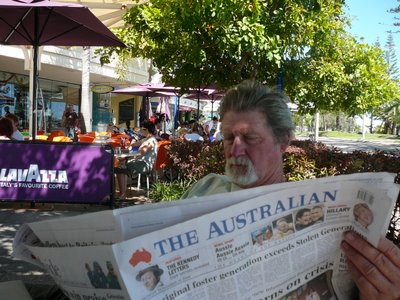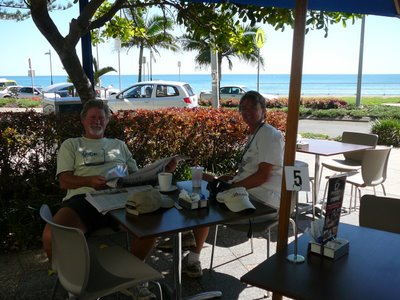 , and spend the rest of the day puttering around the boat, with, maybe another walk to the grocery in the afternoon. Friday we braved the bus system to explore the commercial strip outside of town lucking into a patient driver who not only explained the ticketing system, but later stopped to pick us up when he saw us walking back along the highway!
I suspect this will pretty much be our routine for the foreseeable future, depending on the economy and how many people are keen to buy a cruising boat. We have fantasies of campervan or motorcycle travel, but with the economy the way it is, they may remain just that: fantasies.
PS: Check out my feature article on 'Circumnavigating Vanua Levu: Reflections on What Cruisers Seek" in the December Issue of Latitudes & Attitudes Magazine. It came out very nicely, and believe it or not, there are actually lots of pictures! You can read it online at http://viewer.zmags.com/showmag.php?magid=112881#/page60/
Labels: Marinas, Mooloolaba