"A day off!" you snort. "A day off from what?"
I know it sounds to everyone like we live a life of leisure, but in fact, in between the adventures is a fair amount of work. It's just no one pays us for it. Plus work is both boring to write and read about. Lately the work has been on Tackless II's interior cosmetics, and once again, Don has been the main miracle worker and his media has been sandpaper, a little Golden Oak stain, and varnish. An experiment in touching up a corner looking a bit shabby produced such unexpectedly impressive results, that he has been working his way through the entire boat. Wow, what a difference! No one is going to be able to resist her!
So that's what the day off was from, and how it was spent was in the company of our across-the-dock neighbors, Rod and Sue. Rod and Sue live on a 70' powerboat named Idlewise. Idlewise is also a mature lady like Tackless II, but with very gracious interior spaces and an engine room to make us rag-boaters weep. After having up to 12 family members visiting over the holidays, Rod and Sue were ready for a break themselves, so they invited us to join them for a beach drive.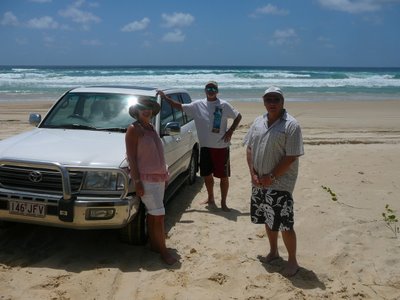 A beach drive is executed in a 4WD vehicle, which in Rod and Sue's case was a cushy Toyota Land Cruiser. Unlike America, where most of the coastline is developed, Queensland still has miles and miles and miles of natural shoreline. Our drive took place on the approximately 50km of beach we'd sailed past in November between Double Island Point on the north end and Noosa Head on the south.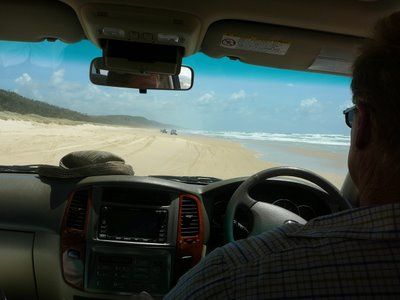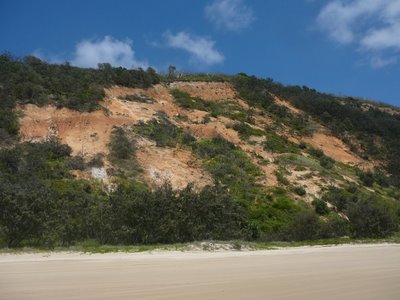 The beach is backed by hills and cliffs of colored sand behind which is a wide wedge of preserved forest through which flows the Noosa River. It is part of the Great Sandy National Park which also includes all of Fraser Island, also renowned as a 4WD destination. Given unlimited time, we could have caught one of the ferries we'd seen at Inskip Point and continued driving another 75 miles right up the outside of Frasier.
It was a bright sunny day with a good swell running, and the turquoise waves were crashing close by on our right. We were not alone on the beach.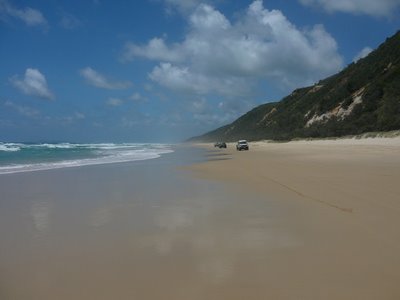 There were plenty of cars traveling at what feels like a breakneck pace in both directions. According to Rod, however, regular road rules apply, which means the speed limit is 50kph and northbound vehicles keep left. Of course, left is where the softer sand was, so things could get a little swishy when we'd pull left to give southbound cars room between us and the surf. Clearly Rod was eating this up. He's been doing this for years and never wavered in his assault!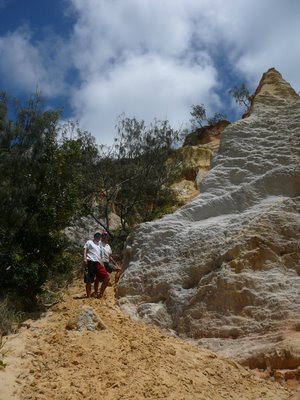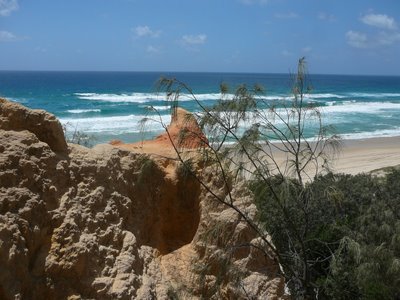 We stopped twice to explore sand canyons and scramble up through soft stuff to reach various vantage points for photographs.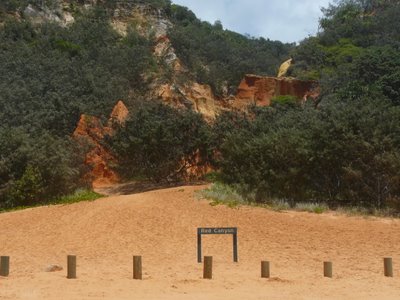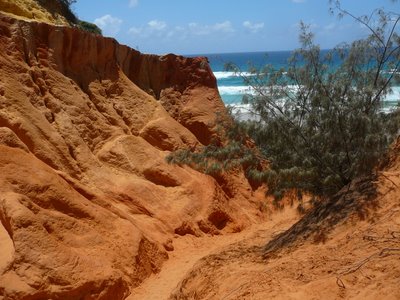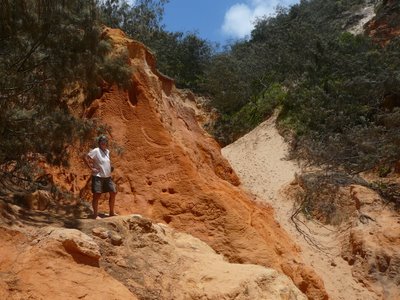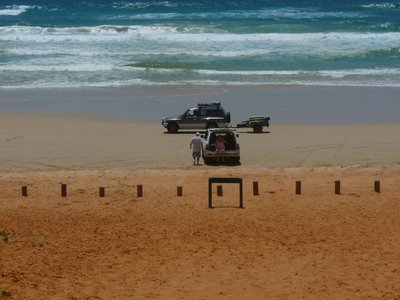 The sand got very hot with every step away from the water. Although we had worn swimsuits ("swimmers" in Aussie-speak), the sea was rather rough-looking plus there was evidence a blue bottles, a small, blue stinging jelly fish. Rod demonstrated the Aussie sport of stamping on the dried jellies' bodies, which pop just as if they were bubble wrap.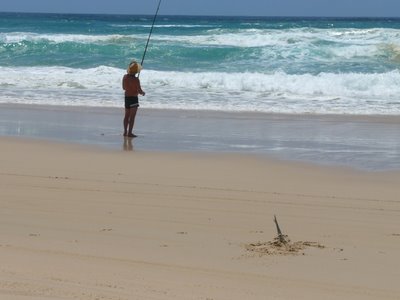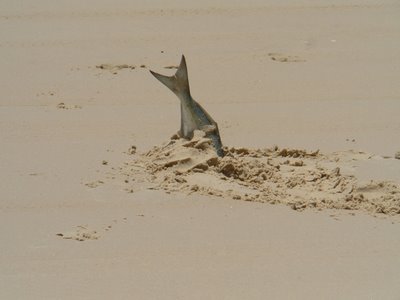 At various stretches along the way were avid fishermen working the surf as well as clusters of campers, their tents pitched above the water line.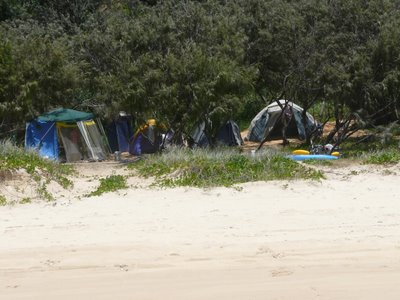 Most camps looked like they'd been there a while. Rod explained how the campers could dig a pit in the sand a the base of the cliffs and collect fresh water! Indeed in many spots along the beach there was enouch fresh water seeping out that the waves became discolored. Every camp site would sport a distinctive flag to facilitate residents finding their own tents. Some groups got quite creative, bringing kiddie wading pools to sit in, solar panels, satellite dishes, etc. The best was an elaborate group "beach bar" complete with pool table.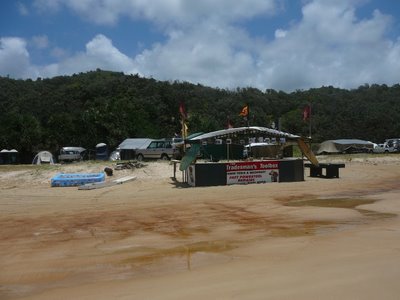 The beach ended abrupt at rocky Double Island Point where several vehicles were parked for swimming in a little cove.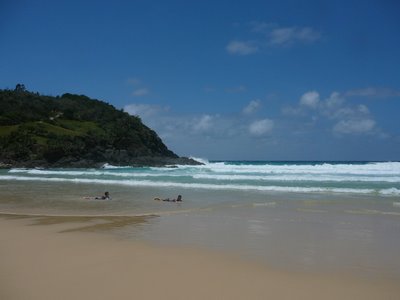 One can climb up to the lighthouse if one has the energy, or one can purchase Magnum ice cream bars from an enterprising vendor who has been driving the beach with his wares for 20+ years! Our timing was perfect, because the vendor sold us our snacks, and when we turned around, he was gone!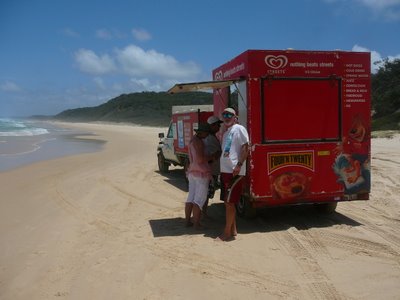 We caught up with him shortly at the track that leads across the Double Island peninsula to the protected bay on its backside. This would be the anchorage that southbound boats can choose to stop at after crossing the Wide Bay Bar. That day it was very placid, and a bar of sand had built up to make an enclosed swimming pool.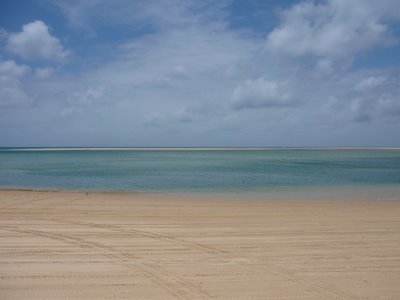 After our swim it was determined that the tide was advancing enough that we'd better not attempt to drive back home on the beach. We did have to backtrack enough on the much shortened beach to get on a track that led out through the park to the village of Rainbow Beach. Every time we entered or exited one of these tracks to and from the beach, my heart was in my throat, because, of course, we had to cross through the band of deep soft sand at the top of the beach. We saw several vehicles stalled up to their bottoms in the sand, the driver out shoveling. Then, as you slew your way onto the track, there's the next scary moment of sliding into your "lane" as defined by stumps of telephone pole dividers. Man you could do some damage if you miscalculate.
Speaking of miscalculation, we weren't far up the track to Rainbow Beach when we encountered a ute (Aussie for truck) flipped onto its back.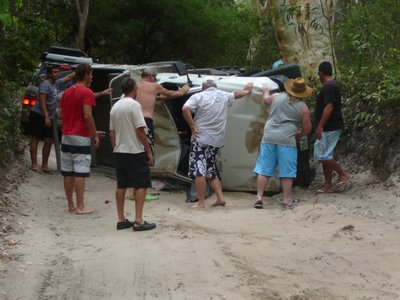 The incident had just happened, and two young guys were standing around looking dazed. That they were standing was the good news. It seems they had been traveling a bit fast for the curve, and, over-correcting, had run up the opposing bank and flipped. We walked up to see if help was needed. Aussies are very resourceful, and no one comes to this part of the country without tow equipment. All the men on hand ganged up to right the truck and tow it out of the way. Good thing, because traffic was stalled in both directions, and the tide would be blocking the only other way out! The driver's spirit was probably as crushed as his truck. Seems he was a carpenter's apprentice and his job depends on his ute.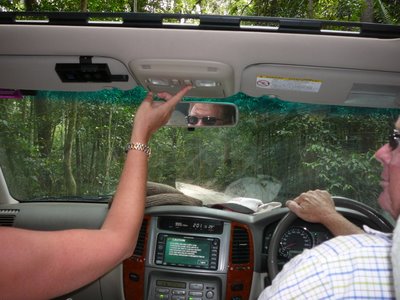 It was a long way out through the forest, but it was beautiful: Big tall trees, very dense growth. At the other end was the village of Rainbow Beach where we stopped for a late lunch in a very handsome, recently renovated pub and for a pass through an underbody car wash. From there we stopped off to visit some friends of Rod and Sue's who own a neat little compound on an inlet overlooking Tin Can Bay, from which they supply bait, ice and rental boats for the campers in the camp ground opposite. Now there was a nice set-up!
Rod and Sue apologized for the trip home being inland, but in late afternoon the landscape on the way to and south on the Bruce Highway was just gorgeous. The hills are lumpy and the land good farmland, much of which, Rod told us, is due to be inundated by a reservoir. We have been reading about this in the news, and it is a plan that has all the residents up in arms, as evidenced by homemade billboards against the project all along the highway. The Bruce Highway, which would have to be moved to accommodate the reservoir, is the major north-south highway of Eastern Australia. Even so, in these parts it is but a two-lane road!
So, a big thank-you to Rod and Sue for a great day out. Every time we get out and see some of the countryside, it strengthens our resolve to get out and do more. And we will, just as soon as the boat is done and back on the market.
Labels: Inland Travel, Road Trip