WE PASSED! We passed! We passed! We passed!....We passed!
The termite doggie finally came to visit Tackless II at 7:30 in the morning, and she sniffed, and sniffed, and sniffed, and finally, waving her happy tail, pronounced us free of termites.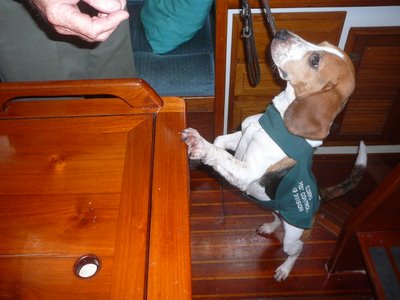 Not that there was really, truly any suspense, …but you never know. The termite inspection is a part of the process of importing a boat into Australia. A visit by a dog is not automatically required, but for a boat like Tackless II, 26 years old with an interior entirely of wood, there was no avoiding it. The moment the Quarantine inspector stuck his nose below last week and saw all the wood, he announced we would have to have the "Category II inspection", aka the termite dogs. Well, duh, we tried to tell you that from the start. It sure seems like they could have saved us the first hundred or so dollars and brought the dogs to begin with!
If it weren't for the cost (we are yet to be billed, but it is expected to be in the $800AUD range!), it is actually a pretty interesting experience. The dog handler is a contractor for the government. In our case it was John Elder who drove all the way up from Yamba in NSW to do our boat and two others (including our friends' just-sold Hallberg Rassey Whisper).
First the handler comes aboard and inspects the boat looking for evidence of termites…we're talking termite poop here, which is little round balls. Then, he went over all our wood with a moisture meter, not unlike was used during our bottom job. We were pleased to learn that Tackless II's wood was precisely where is should be! Whew!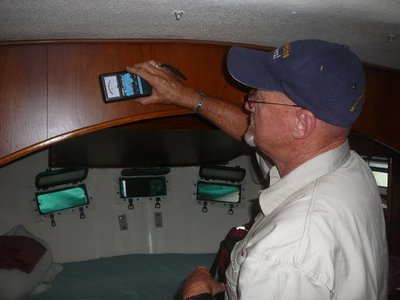 Finally, John brought in Dolly from the parking lot. Dolly, a harrier, is one of three dogs he brought on the trip, (just in case one were to get carsick or something). Dolly, he told us, can find a swab of termite placed in an auditorium in three minutes! Incredibly, John didn't even open up any cupboard doors. While we sat out in the cockpit, John worked Dolly back and forth through the boat, tapping the walls for her to sniff.




With her tail fanning, it was kind of cute to watch, although we wondered what she would do if she found any.
Fortunately, we had to ask to find out. John says that, when she finds evidence, she will sit and put her paw on it! (I found a video on line from another company if you want to see how it is done; go to http://www.termitedetectioncanines.com/)
Dog #2 - Dudley
Not long after Dolly left, we had another doggy visit from our little buddy Dudley, this time with Tricky in tow.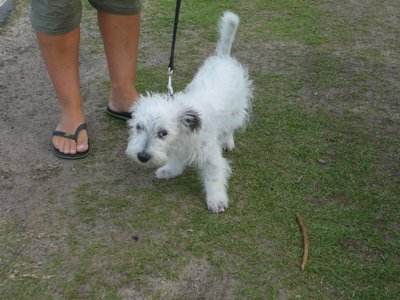 Tricky, who is a new partner in a catamaran company, had a boat on our dock to check out, so he brought Duddles along and we puppy sat. If your face needs cleaning, we can recommend Dudley!
Dudley, who is half Staffordshire Terrier (aka pit bull) and half Maltese, has a somewhat humorous look. He is basically white, but showing through his sparse wispy white hair are enough black spots to give a Dalmatian pause!




His eyes are pink-rimmed on the outer edges and black on the inner, and when they close they make a checkerboard pattern! Even his paws are spotted pink and white, and he has a black spot onthe roof of his pink mouth! However every time I try to take the camera to him, he is not cooperative.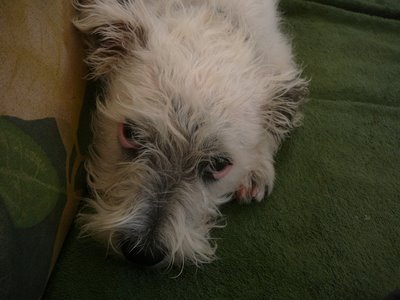 However, while visiting he had his first Skype experience when we got a call from the Wells in North Carolina, and we introduced him to Tikka, the all black Shih Tzu. I don't know what it means, but his attention wasn't engaged until my dignified brother-in-law Bob barked at him. Definitely should have gotten a picture of THAT!
Obama
All this doggie diversion is why we missed seeing the Inauguration live. Well, that and the fact that we got our days confused. We did spend much of the afternoon watching replays, and got to see the Leader of the Free World boogie at the Ball. I can't tell you how reassuring it is to have a President who can dance like a normal person!
Seriously, having read Obama's book, The Audacity of Hope, I am primed to believe in the man. Watching the coverage of the crowds in the mall, the optimism was contagious. Don and I were both quite moved. And when Obama spoke his line about sixty years ago his father might not have been served in a restaurant there, I was moved to recall my first exposure to racial prejudice when I could not bring Lucy's daughter to D.C.'s Glen Echo Amusement Park. I simply could not understand it then, and I have never understood it since! I love what yesterday stood for.
Life in Mooloolaba
Life in Mooloolaba continues to be pleasant. We are itching to get out traveling, but we have had to wait for the quarantine and import issues to sort out and, this week, to get our applications for visa extension in. In the meantime Don has refurbished virtually all the interior varnish, and the boat is looking as beautiful inside as out. We are walking 6-8k every morning, hitting the Sunday morning farmers market, and catching the Wednesday night cruiser dinner. Oh, yes, and Don is burning up the Internet researching jobs and business opportunities for when we finally get back. We welcome suggestions.